The Los Angeles School Police Department is conducting a search for dedicated, qualified, individuals who have the desire to serve as sworn Police Officers for the 5th largest police department in Los Angeles County and the second largest school police department in the United States. The Department has operational jurisdiction of 710 square miles, 24 hours a day; members of the Department are responsible for the safety of all students and staff of Los Angeles Unified School District. Officers may be deployed to a foot beat assignment at a campus or support assignment within the Los Angeles County area.
To qualifiy you must be 21 years old at the time of appointment; have a high school diploma or equivalent; be a U.S. Citizen, and have no felony record.
- Starting Salary is $48,000 - $59,700
- Flexible work schedules; most officers get weekends off
- Paid Vacation, Sick Leave, Holidays, Longevity Pay
- P.O.S.T. Incentive Pay
- Bilingual Pay
- Safety Retirement
- Uniform Allowance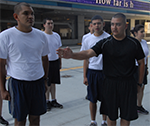 Below is the Los Angeles School Police Department's Physical Agility Test. The minimum passing score is a total of 160 points. It is required that the applicant score 40 points or more in each assessment event. Push-ups and sit-ups have a two minute time limit.